ESL Job Feed is the most eclectic and broad source of ESL jobs and teaching positions available worldwide.?ESL Job Feed publishes links to ESL Job postings from a variety of sources including TESall, Total ESL, Yahoo!/Monster, Guardian Jobs, Chronicle of Higher Education, craigslist, TESOL Org, TEFL and many more. From conversation schools for beginners to university positions for teaching veterans,?ESL Job Feed is your source for English teaching positions worldwide.
5 Perks of Living in Latin America
Admin - Feb 06 2016
With its rich culture, versatile landscapes and delicious cuisines, Latin America is arguably one of the best regions in the world to visit or live. Regardless of your age, financial status, or nationality, there is something in Central and South America for you. Here is why we think everyone should live (or visit) Latin America at least once in their lives.
1. Que Barato!
Latin America is cheap! You can travel, eat and live in Latin America for much cheaper than you can in many other regions of the world. Even some of the more expensive cities like Rio de Janeiro and Buenos Aires are substantially cheaper than traveling around Europe or even the United States. Latin America is a great place to travel if you want to see a lot on a little budget.
2. Things to see
From Mexico all the way down to Patagonia, Latin America is full of incredible places to see. These are our top 5 must-see sights.
Mesoamerican Pyramids in Mexico – Check out the amazing pyramids left behind by the Mayans in various areas around Mexico. Tlachihualtepetl is the largest of these pyramids and can be found in Cholula in the Puebla state.
Tlachihualtepetl Pyramid in Cholula, Mexico
Cruise the Panama Canal – A must-do if you an engineer, a history buff or both! Or if you just enjoy a nice boat ride through one of the most historical waterways in the world.
The Amazon Rainforest - The Amazon Rainforest counts for nearly half of the world"s rainforest, flourishing over 1.7 billion acres. While the majority of the rainforest – 60% – is located in Brazil, the Amazon can be explored in nine different South American countries.
Salar de Uyuni - Feast your eyes on the white blanket of salt at Salar de Uyuni in southwest Bolivia. As the largest salt flat in the world, this former prehistoric lake attracts visitors from all over the world every year.
Salar de Uyuni salt flats in Bolivia
Machu Picchu in Peru - Arguably one of the greatest archaeological discoveries of all time, Machu Picchu is a 15th-century former Inca site. Visitors can walk around the ruins of the temples, houses and other Incan structures.
3. The food is amazing.
Latin Americans know their cuisine and every country has their specialty. Whether you are trying mole in Mexico, ceviche in Peru, or beef in Argentina, every country prides itself on particular plate… and they all boast the best empanadas in the world. Whatever your food palate may be like, eat up down there. All of it is delicioso!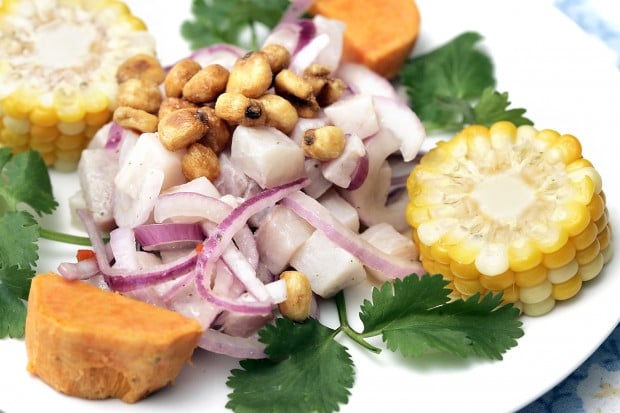 Peruvian Ceviche
4. Learn and practice your Spanish.
As Spanish is the second most common language in the United States, traveling and living in Latin America is a great time to learn and practice using the region"s native tongue. Whether you are traveling for a few weeks or planning on staying south of the border for a more extended period of time, there are plenty of opportunities to take some Spanish classes or find yourself a private tutor. Being bilingual looks great on resumes and the locals appreciate your effort to learn!
5. Easy to travel.
It is very easy to travel from country-to-country in Latin America. It is cheap to fly within the region and, for those more adventurous travelers, there are buses that will take you just about anywhere. Buses are a great option when you are on a budget as ticket prices can be frighteningly cheap, but be prepared to enjoy the ride for several hours. It is all part of the adventure, though!
If you have never been to Latin America, you should absolutely put it on you bucket list of places to visit. If you have visited or living south of the U.S. border, make sure to take the time to get down there again. It is worth the time and money to experience one of the most culturally rich and diverse regions on the planet.
Leave a reply