ESL Job Feed is the most eclectic and broad source of ESL jobs and teaching positions available worldwide.?ESL Job Feed publishes links to ESL Job postings from a variety of sources including TESall, Total ESL, Yahoo!/Monster, Guardian Jobs, Chronicle of Higher Education, craigslist, TESOL Org, TEFL and many more. From conversation schools for beginners to university positions for teaching veterans,?ESL Job Feed is your source for English teaching positions worldwide.
How to Obtain Residency in Different Countries in Asia
admin - Feb 18 2016
Many native speakers of English are considering a fulfilling career as language educators in Asia. This is not surprising at all, given the high demand for ESL/EFL teachers in the thriving economies of the region and the reeling job market at the home front. In fact, quite a number of people from the US, UK, Australia, and other English-speaking countries have already made the decision to leave their home nations and seek more satisfying careers elsewhere in Asia.
There are additional benefits in teaching English to Asian learners on top of the generally decent monetary compensation. The experience of living in exotic locations and personally getting immersed in distinctive socio-cultural environments are bonuses that can be worth much more than the financial aspects of the arrangement.
If you intend to teach English in an Asian city or town, you can do so as a short-term digression from your real career just to try out the unique experience. However, you can also decide to come on board for the long haul. If that's the case, then securing a permanent resident status in the particular country you wish to teach in will be a priceless advantage you should diligently work on.
Different Asian countries implement different sets of requirements on foreigners seeking permanent residency status. The following is a summary of the procedures and requirements established by the immigration agencies of Asian countries where demand for ESL/EFL educators is rather high.
Brunei. This small but oil-rich country is located in the island of Borneo. ESL and EFL teachers who wish to try their luck in this welcoming and peaceful state will be living just a stone's throw away from rainforests and the sea. The population is small with an active expatriate community of Brits and Aussies as well as a sprinkling of other Western groups. The sultanate government actively seeks native English speakers to educate the public.
The following persons of foreign nationalities are eligible for permanent residency status:
· A woman who has been married to a Bruneian citizen for at least two years and who has been residing in Brunei for at least the same amount of time.
· A woman who has been married to a man with a Permanent Resident status for at least five years and who has been residing in Brunei for at least the same amount of time.
· A man who is married to a Bruneian citizen
· A child of at least two years old and living in Brunei for at least the same period and whose mother is a Bruneian citizen
· A child of at least two years and six months old and living in Brunei for at least the same period and whose father is a permanent resident
· Investors and professionals who contribute to the country's economy
To become a permanent resident in Brunei, however, foreigners should first secure an International Certificate of Identity (ICI). The following are the required documentation to do so: 1) original and a copy of Identity Card; 2) Original and a copy of the birth certificate; 3) Original and a copy of the Resident Permit; 4) Three passport-sized photos; and 5) copy of the passport.
China. In addition to opening up its economy, China is also widening its doors for the entry of tourists, investors, and professionals who wish to contribute and profit from its fast-paced development. English teachers, in particular, are in demand, following the preference of the growing middle class to have their children tutored by native English speakers.
Foreigners who intend to acquire permanent residency in China should follow Chinese laws, acquire medical certification as well as relevant law enforcement clearances. In addition, they should be any one of the following:
1. An investor who has directly infused funds into a local company and has been doing favorable business in the country for more than three years.
2. A professional who has assumed any of the following positions, has good revenue records and who has been living in China for at least three years:
· assistant general manager
· factor director
· associate professor
· assistant researcher
3. A person recognized by the government as one who rendered exceptional and outstanding contributions or service to China
4. The spouse and unmarried children (less than 18 years old) of persons that meet the qualifications of numbers 1, 2, and 3.
5. A person married to a Chinese citizen or a permanent resident for more than five years and who is living in China for at least 9 months in a year. The person should have a guaranteed source of livelihood.
Note that individuals who wish to maintain permanent resident status should stay in China at least three months in a year or at least one year in five. Otherwise the status will be revoked.
Japan. The exotic culture, cosmopolitan cities, advanced technology and natural wonders of Japan make it an excellent choice for individuals who intend to teach English as a second or foreign language. While there is still a recession, the demand for qualified English teachers is still significant such that enterprising professionals can still reap the rewards of working in Japan.
Gaining permanent resident status in Japan, is not easy, however. Unless the foreigner is a spouse of a Japanese citizen or has contributed greatly to Japanese society, foreigners need to exhibit lawful behavior, sufficient assets or abilities, and have been living in Japan for at least ten consecutive years. While this article does not endorse it, the shortcut to acquiring the much sought after permanent residency in Japan is composed of the following steps:
1. Marry a Japanese and stay married for at least five years.
2. Secure a certification from a Japan-based employer to show that you have a steady job.
3. Provide an annual earnings form to show that you possess financial stability.
4. Provide a family register form that indicates your relationships with your spouse and your dependents.
5. Fill out additional government forms and pay tax stamps and other associated fees.
Malaysia.Malaysia offers quite a number of exotic delights to people who wish to work as ESL/EFL educators in the country. Its urban settings are modern and cosmopolitan while its countryside contains some of the richest flora and fauna in the world. To become a permanent resident in Malaysia, a foreigner should meet the following qualifications:
1. At least five-year continuous residence in the country via a legal Entry Permit.
2. Foreign men who marry Malaysian citizens need to reside in Malaysia for at least 10 years before they can acquire permanent resident status.
To be submitted and processed by the Visa, Permit and Pass Division, the following documents are required for permanent residence applications:
1. Passport
2. Form IMM 4
3. Two ID photographs (3.5 cm x 5.0 cm)
4. An ID photograph if a Malaysian sponsor (3.5 cm x 5.0 cm)
5. Identity Card of spouse (if applicable)
6. Marriage certificate (if applicable)
7. Other supporting documents
Philippines. Composed of more than 7,100 islands, the Philippine archipelago is an Asian paradise of beaches, mountains, and coral reefs. It is also home to a welcoming people, known for their warmth and hospitality. Any native English speaker who wishes to teach in the Philippines would want to obtain a permanent resident status. To do so, foreigners must meet any one of the following conditions or obtain the relevant document:
1. Quota Immigrant Visa (This is granted yearly to fifty Americans who seek permanent residence in the country but do not meet the basic criteria).
2. Married to a Filipino citizen.
3. Returning former Filipino citizen.
4. Special Retiree's Visa (This is for Americans, 35 years and above who wish to stay indefinitely in the country)
5. Special Investors Resident Visa (This is available to foreigners who invest in profitable economic activities in the country including those related to tourism.
South Korea. An economic and cultural powerhouse, South Korea is among the best countries to work in as an ESL educator. The pay is good and the fringe benefits--a wide array of tourist spots and ultra-modern amenities--are quite compelling. However, becoming a permanent resident is a steep climb over a mountain of strict immigration laws. Most foreigners are not eligible for Korean citizenship nor permanent residency unless they are literally marrying into the culture or have invested quite a lot of money (at least US4 5 million) into the local economy. Exceptions include foreigners who are recognized by the Justice Ministry for outstanding non-monetary contributions to Korean society as well as business-visa-holding foreigners who have already invested more than US$ 500,000 in the economy.
The following people are eligible for permanent residency:
1. Overseas Koreans with F4 visas (Applicants belonging to this category have to meet specific salary and property tax requirements. They also need to reside in Korea for more than two years)
2. Ethnic Chinese born in Korea
3. Foreign investors (These foreigners should have invested at least US$ 500,000 and employed more than five Korean citizens.
4. Foreign spouses of Korean nationals
Thailand. Thailand is increasingly becoming a popular retirement haven or second home to many Westerners. This is because it offers a rich blend of culture, natural charm and highly affordable cost of living. As a result, its immigration laws are some of the most attractive anywhere in the region. If you intend to work and stay in Thailand indefinitely, it is best to secure a permanent resident status. Here are the qualifications you need to meet:
1. You must be a holder of a Thai non-immigrant visa for the last three years or more.
2. You must be a holder of a Thai non-immigrant visa at the time of the application.
3. You must belong to any of the following category:
· Foreign Investor who has infused a minimum of 3 to 10 million baht in the Thai economy
· Worker or Business category
· Closely related (as spouse, parent, or guardian) to a Thai citizen or a person with permanent resident status in Thailand.
· Professional or Expert category
· Other categories established by the government
Once the application for permanent resident status is approved, a residence blue book will be issued to the applicant.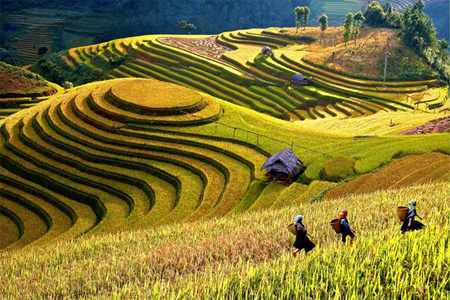 Vietnam. Vietnam is becoming one of the most interesting places to work as an English language instructor. Its thriving tourism industry, the increasing purchasing power of its urban populations and its more active involvement in global business are reinforcing the demand for ESL/EFL educators in the country.
Eligible foreigners may apply for permanent resident status at the Department of Immigration Control. Vietnam has its own standards for granting permanent resident status:
1. A foreigner who is unrightfully oppressed for noble causes (people's freedom or independence, democracy, socialism, peace, or scientific causes).
2. A foreigner who made outstanding contributions in the building and protection of Vietnam.
3. The spouse, child, or parent of a Vietnamese citizen who is residing permanently in Vietnam.

Conclusion
For native English speakers who are serious about having a career as language educators, Asia remains the best employment destination. Acquiring a permanent resident status is a must for ESL/EFL teachers who are in for the long haul, however. This will allow them to work on longer periods without constantly worrying about their papers in addition to enjoying most of the rights and privileges of full citizens.
Leave a reply